Inception

We've had a close relationship with Mutua Matheka ever since we built his first portfolio site back in 2010. After successfully launching v2 of the site and moving his blog to a self-hosted platform, we began thinking of ways to use technology to reach even more people with his award-winning work.
Matheka's weekly wallpaper downloads had become very popular, so we decided to design an app that would deliver them directly to mobile phones and tablets. Since iOS doesn't allow apps to set wallpapers, and again since Android is more widespread in Kenya, we decided to start with the latter.

Challenges
1
By the time we were beginning the app's development, Matheka already had hundreds of wallpapers. These had all been uploaded on his custom WordPress website, and had tracked more than 30,000 downloads. We couldn't just move them or start over.
2
Secondly, since the wallpapers are uploaded weekly by Matheka himself, we had to ensure that developing the app wouldn't significantly alter his workflow. It all had to be simple enough for him to keep focusing on what he does best: shooting amazing photos.
Solved

We were therefore quite thrilled when we got the idea to code an API on the server that would interface directly with the WordPress database and spit out the queried files that the Android client requested.
It worked!
Focus on UI/UX
As we built the app, we were keenly aware of the main weakness of locally developed apps: design. We wanted to put out something unique; something that would match the attention to detail and professionalism of Matheka's website.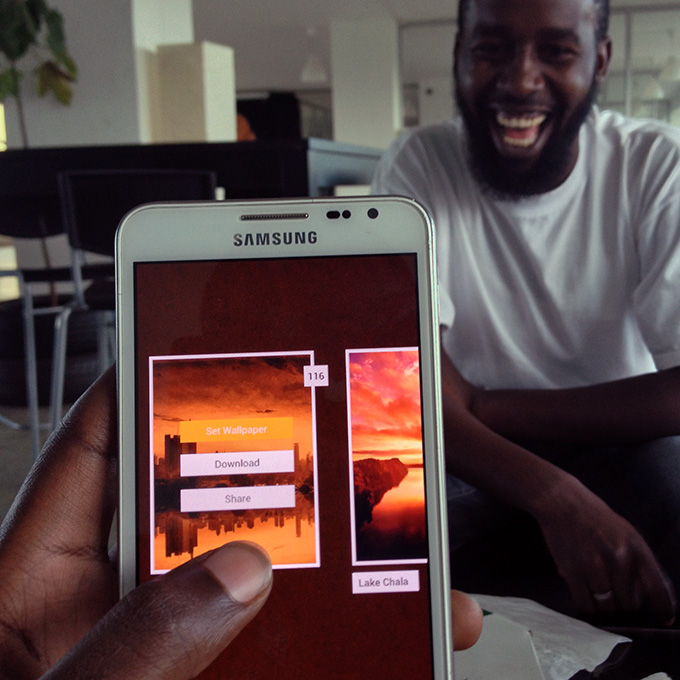 We've kept the layout simple, dynamically loading the wallpapers as the user scrolls. Users can set the wallpapers directly and also share them on social media via the app.
However, it's the little details like the "chill kiasi" loading message that have been the source of many a smile.