The Name
One sunny afternoon back in October 2008, Huston sat outside Alliance Française with two of his friends—Jesse Odiyo and King Kahiga. As they talked about the future, he told them that he was going to start a bespoke design company.
When they asked him what he'd call it, he paused and said, "Something that rhymes with 'design'… like, Skyline… yeah… Skyline Design!"
Nothing deep.
Within a month's time, Skyline was registered as a sole proprietorship and sealed its first web design contract in November that year.

The Tag Line
African Skin, Martian Skills
In 2010, David Kuria and Huston met and became close friends.
David's design skills were clearly exceptional, and Huston's work was already gaining recognition in the industry. So one day, as they talked about design while playing loud music at David's house, they decided to form a company together. The name was eventually retained, and Skyline Design Ltd became incorporated in February 2012.
Influenced by David's work for Kingdom Republic, Huston coined the tagline "African skin, Martian skills" since we strive to take our excellence and skills beyond international.
Not of this world.

The Clientelle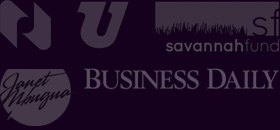 Skyline only works on bespoke design and code projects, so consequently our client list is an unashamed A-list.
Our first major project was the 2nd version of Zuqka.com, which we designed and coded for Nation Media Group in 2012. It was at this point that Brian Wangila joined the band of brothers, and has since played an invaluable role on the Martian ship, eventually earning his place as a shareholder.

The Logo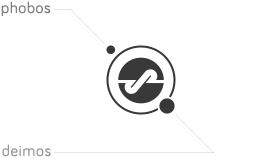 The Skyline logo is a deeply symbolic representation of our "Martian skills" philosophy.
The 3 orbs represent Mars and its two moons: Phobos and Deimos. The timing of their rotation as seen on this website precisely matches the orbits of the two moons to scale.
Martians we are, gravitating and looking out for each other in foreign territory. But that notwithstanding, we walk among Adam's kin in African skin. That means that we also care about our clients beyond what's required of us. We empathise, show kindness, and are eager to forge lasting friendships in the line of duty.