Good web design is hard to come by in Kenya. So other than just talk against it, I have scoured the net over the past month in search of commendable Kenyan web sites that can serve as inspiration for Kenyan designers. 25 of them are featured here. If I were to go by international standards and ensure none was table based or built on a premium theme, they would be too few. But overlooking a few things here and there, here is a list of commendable sites.
Shootout
ARK Kenya
Bonk Clothing
Paras Gudka
XYZ
Simba Colt Motors
The Walblog
*iHub_
James Quest
Tribe Hotel
Safari Park
KOAN
NHIF
Orange Kenya
Juliani
Africa Nazarene University
Mavuno
Shujaaz
Gatwich Festival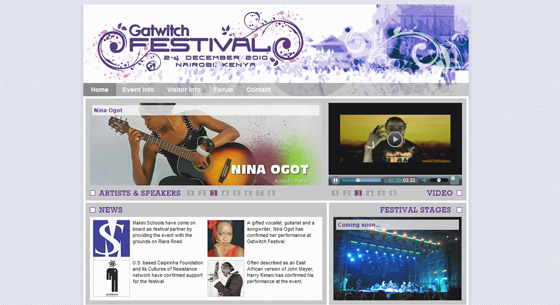 Fairdeal
Kaptagat Farm Resort
Brand Kenya
Bata Kenya
Tile & Carpet Centre
Famiflix
Parting Shot
Are there any noteworthy Kenyan web sites that you have come across? Did you like the ones listed here? Please also check out the second and the third feature, if you haven't already.